'Tis the season to be jolly, but some people are so concerned about the threat of a zombie holocaust that they'll forget to enjoy themselves over the festive period. You know the type: buy them a cosy cashmere scarf and gloves set and they'll want to exchange it for some chainmail gauntlets and a coif. However, help is at hand: we've come up with this list of great zombie-themed Christmas gifts that will, at the very least, take their minds off the imminent arrival of the walking dead during the holidays…
Zombie sleep mask
If people won't leave you alone when you want to have a quiet 40 winks, this zombie-themed sleep mask should do the trick. Pop it on and nap away, quiet as the undead! A very unique design, and at $6, it's a steal.
Zombie jelly mould
Liven up your repertoire of jelly-based puddings and leave your guests (victims) trembling like the dessert itself with this zombie-shaped mould. At $14, this is a must for anyone planning to host a children's birthday party in the near future. Er, right?
Zombiecide board game
There are lots of Zombie board games out there, but Zombiecide is one of the coolest as there are ten different scenarios to play through and its got a Warhammer-style board. It's £59.99, but great for zombie enthusiasts.
Zombie slippers
It looks set to be a cold winter, but let these zombie slippers gnaw on your feet and you'll feel nothing! They're oversized and silly, but that's what makes them great fun. They're £29.99 from Amazon.
Zombie t-shirt
There are a gazillion zombie t-shirts out there (approx.), but this is one of the best for its cheeky twist on the 'Keep Calm and…' slogan. Blood splattering completes the look. Shirts are available for both guys and gals from £14.99.
Zombie laptop skin
Personalise your laptop with this laptop skin. Menacing and atmospheric, it costs £12.48, and is perfect for Zed heads!
Zombie book
Zombie books are plentiful, but there aren't many like this one. 'Zombies for Zombies' apes the 'Dummies' set of books, but instead offers advice to those for whom putting up a shelf or configuring a SQL server is not a priority. With recipes for brains, rotting flesh medicines and dance-steps for the motor-impaired, at $10.39 this is a very different take on being a zombie!
Custom zombie photo
If you're looking for romantic zombie-themed gift to give this Christmas, then for $50 a custom couple's zombie photo should do very nicely. Simply send in your photo and choice of phrase and etsy's Custom Zombie will convert the happy couple into shuffling monstrosities.
Zombie garden gnome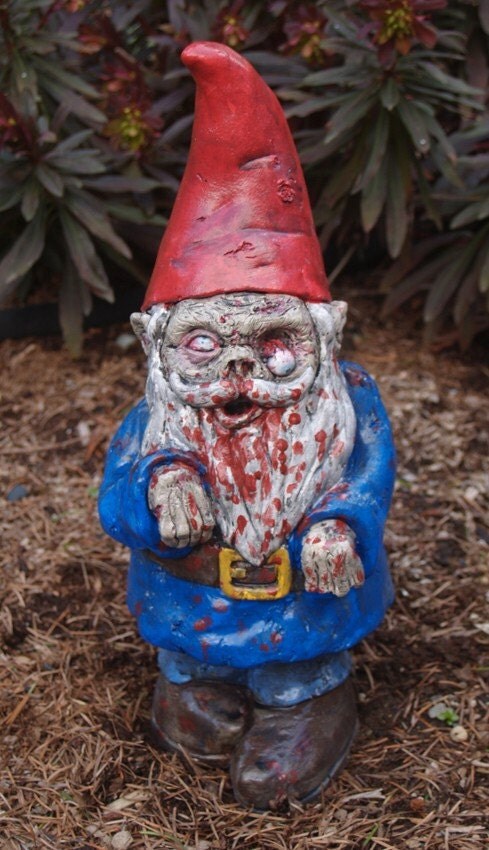 This garden gnome may appear to be a regular common or garden gnome, but get a little closer and see the eye hanging out, the blood stains, the sullen pose… Just don't get too close. A very kooky and different present, costing $59.
Zombie cookie jar
Want to keep your biccies safe from other humans? Only the truly undead will look to feed from this cookie jar. It's yours for $30.
Owain is a very-much-not-one-of-the-undead-horde writer for GKBCinc.com, who particularly enjoys writing about popular culture and the arts.