What do you buy someone who lives in the dark and only speaks to other humans online? Social media freaks (or Soc Med Gurus as we like to be known) react well to in-jokes, so even if you don't understand these social media gift ideas, they will and they'll probably LOL for about 10 years.
Like This
Like and dislike Stamps
Every social media obsessive has longed for a 'dislike' button, and with this set they can judge everything they come across – without having to hover over their mouse for 10 minutes, worrying about what an ex-girlfriend's cousin's mum will think. These fab stampers are £8.61 for the pair.
Spread the Word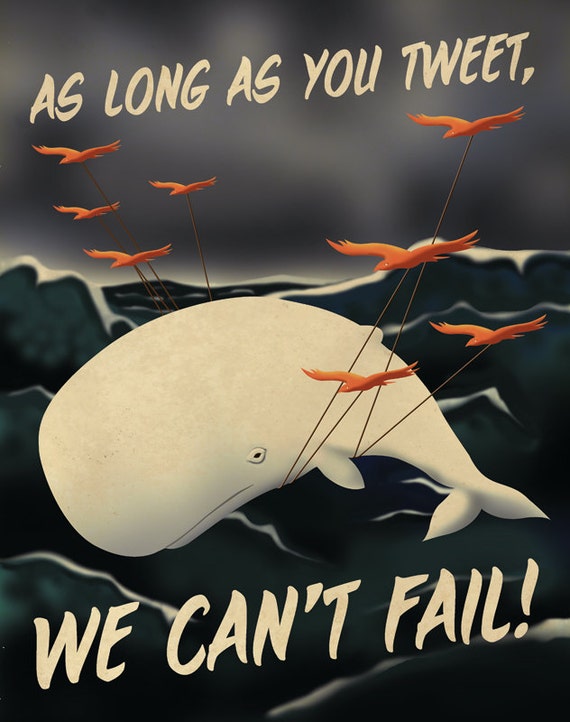 Twitter propaganda poster
Constantly updating followers about cute kitten videos, stupid celebrities and new geek gadgets is a noble cause. To show your loved one that you respect their calling, give them one of these beautiful propaganda posters. The above design is only a fiver and there are plenty of others to choose from on Justonescarf's etsy store – we'll be buying a fair few for our lounge!
The Real Pin Back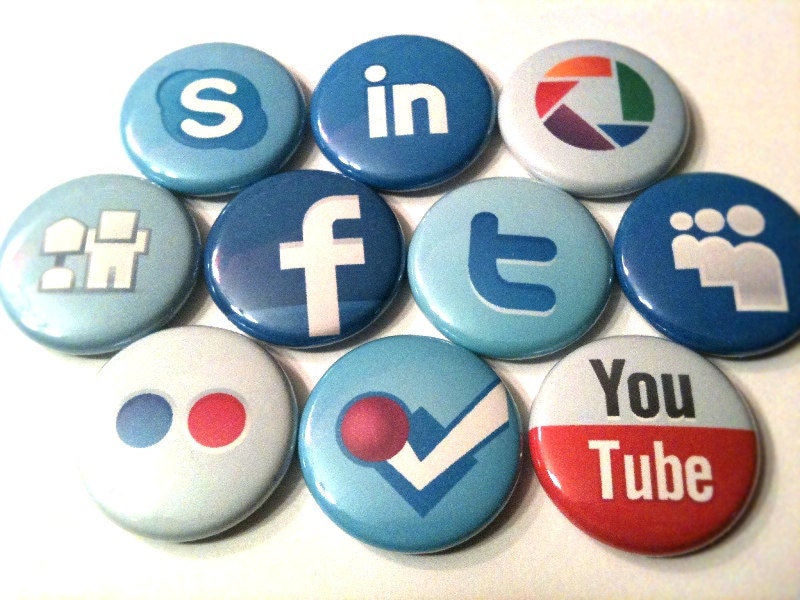 Social media button badges
Like the Google mug, soc med icons are a big part of the nerd cult. Your beloved geek can wear their social heart on their sleeve (or their bag) with these awesome badges. Get the whole set for £4.16 from Skippy Dog Designs on etsy.
A Tweet Thought
The Tweet Towel
Not only can your lucky, lucky friend show how much they love social media, they can WIPE IT ALL OVER THEMSELVES. With this personalised Tweet towel, your favourite soc med nerdball can chuckle wryly at their own highlights every morning, and with their super-smart smartphone safely out of the splash zone. Pick up this amazeballs prezzie for a reduced price of £10.62.
The Human Billboard
QR Code t-shirt
Be warned: this is super gimmicky and may result in public assault. However, for anyone who is desperate to get the word out about their awesome blog or meaningful Twitter feed, it's also quite inspired. Or stupid. At £9.95 for any message turned into a QR code, we say go for it (it will be funny).
On the Button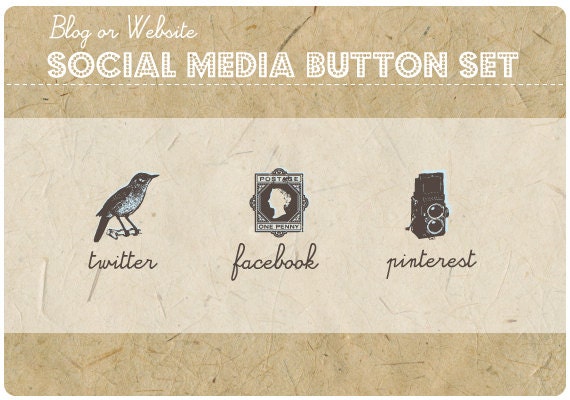 Social media buttons
What's more awesome than social media? Your own custom social media icons, that's what. These vintage-look buttons are perfect for any eager blogger's web décor, and they come in loads of other styles for around £10 a set via Starling Memory's etsy store.
An Idea with Legs
'Follow Me' tights
Also known as 'Twitter Stalkings' (ahahahaha, MEGA LOLZ!), these tights have a bit of a cult following. Although slightly creepy to anyone normal, these would make any Twitter princess supremely happy. They're yours for under £15 and guarantee you one ecstatic geek girl.
#ILoveYou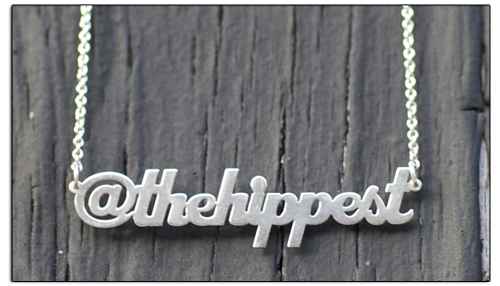 St@tus symbol necklace
This is a forever present involving a bit more cash and possibly some diamonds. If your Significant Other has a new business or just SUPER loves social media, immortalize their Twitter ID in silver and precious stones. These babies start at under £40 but you can request as many rubies, diamonds, emeralds and sapphires as you like!
Life in Pictures
Instagram canvas prints
All those photos of puppies and food on Instagram… how about getting some of your giftee's 'art' printed on canvas to turn their digital life into something a little bit more tangible? You can simply login with your Instagram account and stalk their best results. Prices start at £19.99 for a 6×6" canvas. 
Build a Brand
Me 2.0: 4 Steps to Building Your Future
This book is the last word in turning yourself into a marketable brand. Not only does it hold tips on brushing up how you appear online, it also gives great ideas about finding a job through social media. If your friend is a fledgling blogger with big plans, this is the guide to making their dreams come true. £9.52 seems quite a bargain for changing someone's life!
One last top tip: if you're still stuck for what to get your social media nut, try following them on Pinterest, Facebook, Twitter or wherever else they're posting – a true soc med nerd can't resist sharing their favourite products with all their followers.
Have you seen any completely @#@#ing mental Christmas gifts for social media freaks this year? Talk to us in the comments below – we're bound to be online after all…
Honor is a blogger for GKBC and a social media whizz kid. Aside from building a career in online marketing, she also writes for a webzine and rules her own blog. Then she posts about it all on Twitter, Facebook and Pinterest.