The pub has a longstanding history as a great British institution. It serves as a hub of social activity at the forefront of the community; it's a place for the meeting of minds, a tipsy night out with friends, or simply a retreat from the pressures of everyday life where a good pint and a friendly atmosphere can make all seem right with the world.
But the traditional pub is now under threat. With over 10,000 closed down in the last 10 years, these once proud buildings now sit crumbling under neglect and decay, their windows boarded up and their signs faded and rusting. The pub trade seems to be a dying one, and perhaps many traditional aspects of our culture will go with it.
So what has changed, and why are our pubs now under threat?
In recent years, pressure has been mounting from the government to curb excessive drinking. This stems  from a moral anxiety in some quarters that we are becoming – or have become – 'booze Britain', a country in which a normal night out consists of drinking until you pass out, consuming a kebab once consciousness is regained, stumbling towards home, and perhaps fighting en route and ending up in a police cell instead of bed.
Though an extreme example, this scenario is not uncommon in many towns and cities across the UK, and it is evident that changes are needed to bring the culture of excessive drinking under control. But the measures that have been brought in as a preventative have actually severely impacted on those who just enjoy a quiet drink or two in their local public house.
image by 'Bruno Girin'
In 2005, new legislation was passed that would allow for premises to extend their licenses to 24 hour, the theory being that it would curb drinkers' propensity  for consuming large amounts of booze within a short space of time. The unlikely victim of this legislation has been the humble pub, with more and more drinkers choosing to head to clubs or bars for a night out. In addition, supermarkets are able to continuously slash alcohol prices, meaning many choose to socialise at home in these lean times.
This has forced many traditional pubs to diversify or die, some opting to rebrand themselves as a 'pub-cum-restaurant' or 'gastro-pub', food being a reliable (and more profitable) source of takings. Although it could be argued that responding in this fashion is a necessity, where does that leave the locals who  just want to sit at the bar and converse the night away?
Nowadays they they have to pre-book a table for themselves and their friends, order a main course cooked in a glorified microwave, or they can try to find a quiet corner to sit in, being careful not dirty the pristine, polished floor with mud-stained work boots. There is no home for many a local pub-goer anymore, and the place that was once rooted at the heart of a working class community now offers up early bird menus and 'kids eat free' special offers.
image by 'avlxyz'
Indeed, those pubs that refuse to relinquish their tired old carpets and amusing trinkets hung on the wall are facing a sharp decline in sales and eventual closure, with many being demolished in favour of new developments; a scheme by councils to attract more business to an area.
While it can be argued that those pubs with guest houses attached are actually doing better than before (the recession having led to more people holidaying at home than abroad), others are struggling to retain custom against a backdrop of 'buy one, get one free' offers haphazardly flung at drinkers from supermarkets, chain pubs, all-night bars and clubs. These deals have recently come under legislative scrutiny, however, with Scotland being the first country within the UK to introduce minimum pricing for alcohol and curbing the number of those deals that encourage us to drink more.
But money is not the only blame for the falling numbers of pub goers. Certainly the recession has played a huge part, with both breweries and landlords feeling the pinch, but perhaps the worst culprits are the consumers themselves, and the trend of demanding more more more for less less less.
Sleepy market towns have transformed from a hub for independent retailers and quaint little pubs to a mess of chain retailers, charity shops and mobile phone stores. The demand for residents to have 'more things to do' has led to councils planning aggressive changes, with little regard to the outcome of their endeavors.
Although shoppers are happy that they can now sport the latest fashions from 'Tops-R-Us', the local community suffers. The 'spark' that made a town unique, the shops selling handmade furniture and local goods, is now gone, replaced with brand name chains that can be found in any town or city nationwide.
We want it all; we want our shops to be nearby, we want our convenient 24-7 garage, but what we are ultimately left with is a shell of a community, and just another town that resembles a London overspill.
The smoking ban has also had its part to play. As a smoker myself, I have to admit the thought of sitting or standing out in the cold is not an appealing one, and those pubs that have responded appropriately to the ban by building smoking areas with adequate heating are my first choice when considering where to spend an evening. Since 2007 when the ban was introduced, pubs have suffered a sharp declines in revenues.
image by '-jocelyn-'
I recently discovered that my former local is to be replaced by a McDonalds, and this has struck me as deeply saddening. The hub of my community, and the place where I met several good and long-lasting friends, is now going to be demolished in favour of a two storey drive thru, in a town that already has a McDonalds less than a mile up the road. Will this drive thru really benefit the local community?
On an already busy road it will certainly impact upon it, increasing both traffic and pollution, but other than offering a few extra jobs I cannot see the positives in the demolition of a pub dating back to as early as the 1700's (if new historical evidence brought to light is proven). Not only will the town lose an important part of its history, it will also lose yet another independent retailer, as the proposal will also see the demise of a camera shop that has traded adjacent to the site for over 52 years.
But this tragic tale is by no means unique; many towns have watched as their local pubs and retailers have been destroyed, punished for being built upon what is now considered 'prime land for development'. Flats and houses and supermarkets and retail parks spring up in their place, all in the name of progress, and this begs the question: do we really want to lose our great British Heritage? Or are our councils too focused upon money than the needs and desires of our communities?
Can anything be done to fight the decline?
New legislation introduced in 2011 could help to combat the loss of our pubs and other historical buildings. The Localism Act allows for communities to bid for privately owned pubs or shops and take over ownership should the building be threatened, as long as it is deemed to be an 'asset of community value.' This offers the community the opportunity to rally around a cause, and has led to the potential savior of The Ivy House pub in Nunhead, a building dating back to the 1930s and recently listed by English Heritage. It would be the first pub to be saved under the Localism Act.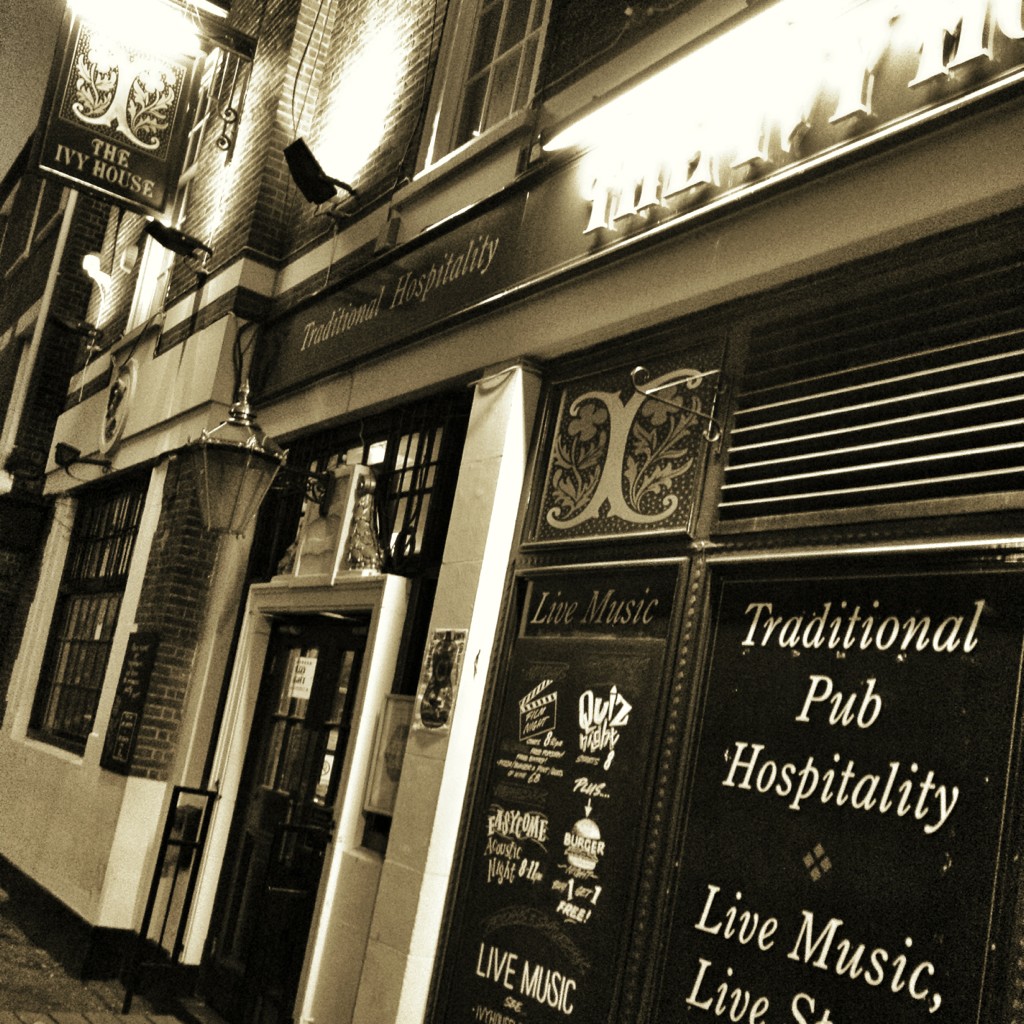 What to do if your local pub is under threat
If the building has historical significance, it's important to submit the building to be listed through English Heritage; this should help to protect it from developers. Additionally, submit an application to the council highlighting that the property is a 'key asset' to your local community. Once a building has been listed under the Localism Act, it cannot be sold without allowing for community groups to bid for it.
My old local mentioned above is currently undergoing this process, with residents forming a committee that seeks to take ownership of the building,and turn it back into a pub and music venue. The campaign is being fuelled by social media, and many of those expressing support are based nationwide, showing that the British public are not ready to let our pubs die yet.
In 1946 George Orwell wrote an essay titled 'The Moon Under Water' in which he dreamt up his perfect pub, a place "uncompromisingly Victorian" with "no glass-topped tables or other modern miseries."  His imagined heavenly hostelry was a placequiet enough to talk" and "possesses neither a radio nor a piano," where the barmaids "know the customers by name and take an interest in everyone."
These are the qualities long associated with the traditional British pub, and Orwell would no doubt take great exception to the discount 'chain stores' that commonly function as a pub in more modern times.