*Update for Christmas 2013*
Puddings and cakes and pies, oh my! A seemingly fundamental part of Christmas, dessert (well, food overall) is usually one of the things I look forward to most. As someone who enjoys being in the kitchen and baking especially, I would love to receive any one of the following items as a gift. If you know anyone who also has a special affinity for baking then why not check out this excellent list Christmas gifts for bakers?
the art and soul of baking recipe book
If the title of this recipe book isn't enough to make you want to grab it off the shelves, the chapters filled with delicious recipes and gorgeous photographs will leave your mouth watering. It's had fantastic reviews and would make the perfect gift for the avid baker. Make sure you wrap it up before it finds its way onto your own bookshelf!
Get your hands on it for a mere £23.00 at amazon.co.uk
IPhone Cover – the whisk wasn't the tallest
If the baker you know already has all the latest gadgets and utensils for baking, buy a quirky and humorous gift like a food lover's iPhone cover from Society6.com. I recommend the one by Marc Johns that says: "The whisk wasn't the tallest, but he had terrific hair".
Get yours for about £22 at Society6
Meri meri merry & bright printed apron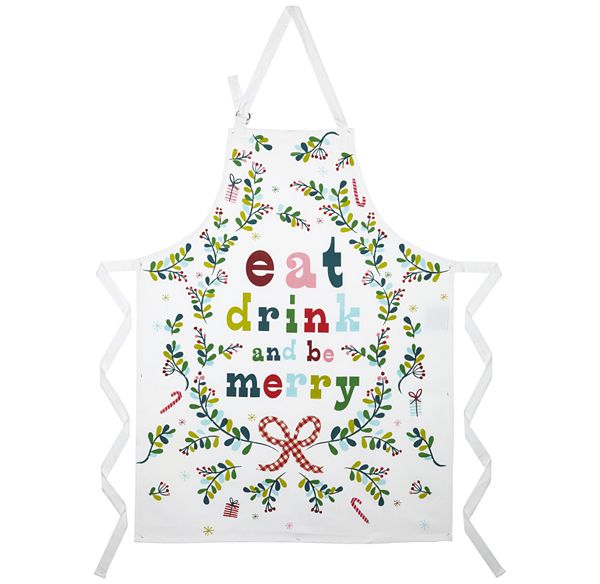 This 'eat, drink and be merry' apron from John Lewis will brighten up any kitchen during the holidays. The baker can cook in style and join in with the festivities. It's a gift that will fit all, and a great way of saying, "we love your baking, feel free to send some cookies round!"
Find it at John Lewis for £18.50
hope and greenwood icing pen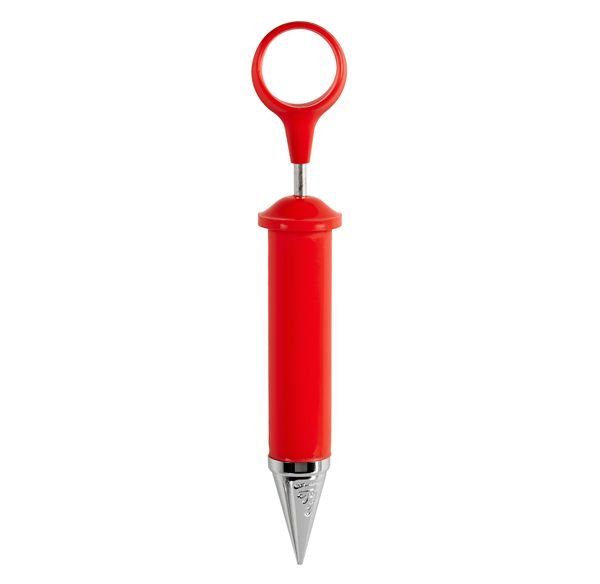 This icing pen has a thin metal nozzle that allows for precise writing and drawing on cakes, cupcakes and other delightful fancies. It comes in a retro polka dot tin for easy (and cool-looking) storage. Drawing a frosty Christmas tree with baubles and a star on top has never been simpler.
50's christmas design biscuit tin
This vintage style Christmas tin is oh so delightful and it's a great size and shape. When it's not being used for delicious baked goods, it's brilliant for storing Christmas cards. Dot Com has a variety of tins, so you could get two or three different designs in smaller sizes for stacking.
And it's only £6.95 here at Dot Com Gift Shop
vintage cake parade poster
Look up the artist Elisandra at posterlounge.co.uk and you'll find some seriously cool vintage posters of the most desirable baked goods. Chocolate Cake has a speech bubble next to it that says: "can save your life" — and it's probably true. These posters would look great framed in the kitchen or living room. They're bright, creative and very affordable. You can even get a canvas of your chosen print.
For a mere £7.90-£23.90 for a poster and £24.90-£72.90 for a canvas it can be yours from posterlounge
Joseph joseph baking gift set
This creative and innovative baking gift set allows for precise measurements and easy usage. It's a 4-piece set with an adjustable rolling pin, an elevated spatula and pastry brush, and a pie timer with a graphical dial. It's for the baking enthusiast who looks for quality and style. Let the baking begin!
6 star cupcake cases
These star-shaped red cupcake cases are fantastic gifts for the festive season, and cupcakes are all the rage at the moment! The cases are non-stick silicone and very durable.
Marks & Spencer has an abundance of cheerful and stylish Christmas themed kitchen utensils, bowls, tins and measuring cups. The cupcake cases are a great price at £6 for 6, so you could even mix and match and get some snowman cookie cutters, a log cabin pudding basin or a Christmas tree cake mould too.
Available at Marks & Spencer for only £6
moustache christmas apron
This 'Staching Thru The Snow' apron is the perfect Christmas gift for a baker with a great sense of humour.  If some manly baking is on the cards, this apron is the one for the job. The aprons come in different colours and lengths, but the classic white has that Christmassy feel to it.
Sold at Zazzle, the standard is £16.85, the long £19.10, and the kids size is £13.45
traditional gingerbread house kit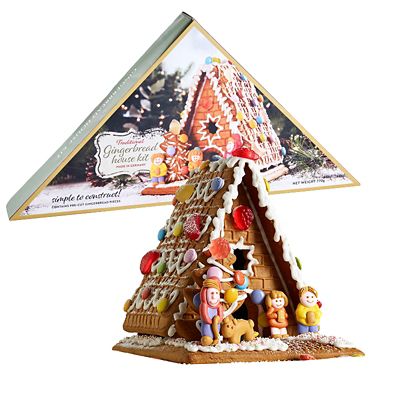 If your little one loves baking, why not make some gingerbread cookies with them? Or, to jump straight to the fun decorating part, get one of these traditional gingerbread house kits from Lakeland. You get everything you need in the kit, including gingerbread walls, sweets, chocolates, a piping bag, and fairy tale folk people. They'll be grinning from ear to ear.
Get it at Lakeland for only £11.99
Chef's Tablet Stand with a Touch Pen
This tablet stand is a god sent for bakers. If you have a tablet, and use it when baking you will know how messy it can get. And no one likes a floury/sticky screen. The touch pen is perfect for flicking through the recipes, why haven't we been using this the whole time?
Get it from Lakeland for only £23.99
'Baking Bad' iPhone Case
This has to be the coolest iPhone case I have ever seen. If you know someone who's a baker, and loves Breaking Bad (who doesn't?) then this may just be the perfect present for them. Ever.
Get yours from Red Bubble for £25.75
Wine Bottle Christmas Jumper
…Because baking and drinking go hand in hand – especially at Christmas. Make sure everything in the kitchen has a festive touch this year with this Christmas jumper!
For only £6.99 at Lakeland
Kitchen Craft Cake and Biscuit Icing Set
I'm already jealous of anyone who will receive this as a present this year. The festive stencils and nozzles will make it really easy and fun to decorate any cakes.
Available from Amazon for a mere £18.65
Baking Necklace
This necklace is a really cute and quirky gift for any baker true to their baking religion. It would make a great stocking filler and will have your baking friend grinning from ear to ear – and probably result in some cakes in return. Yay!
Only £18.44 from Esty.com
Santa Oven Gloves
These festive oven gloves are a great gift to help jolly bakers when making cakes, carrying a turkey – or just to stay cool in the kitchen.
Yours for £14.00 from Cath Kidson
Mr Tea
Mr Tea is here to help bakers chill out when baking. He'll ensure their tea is full of flavour while they slave away over the oven. As Lakeland say: 'tea time for you is bath time for Mr Tea' – and he's available for only £9.99!
Vintage Christmas Apron
We're going back to old school baking with this Christmas apron. If your baker is a lover of all things vintage then they'll love this present all year round. Made to fit all sizes, the apron is multi layered with a classic A-line style – it's like we're back in the 50s!
Yours for £41.34
Santa's Sleigh Mould
Don't worry this is not as hard as it looks! This Santa's Sleigh Mould would make a perfect, professional looking centrepiece – or just a tasty snack. Simply melt some chocolate onto the mould, wait for it to set, then cement the pieces together with icing, and decorate. Or have a look on Lakeland's website for their tutorial video. Only £11.99!
Mary Berry's Christmas Collection Cookbook
Finally a Christmas cracker of a cookbook by the wonderful Mary Berry. With plenty of great reviews, and 100+ easy to follow recipes – it would make the perfect Christmas present for a baker, and probably their friends and family too!
Buy it from Amazon: either used from £14.21 or new for £19.95.
So there you have 10 great Christmas gifts for bakers. Hop on your merry sleigh, or get cosy on the sofa, and let the online shopping begin! If you have any suggestions for cool or quirky gifts for baking enthusiasts, share them with us.
Stephanie is a freelance writer and blogger interested in writing about a variety of different topics, from lifestyle and travel to film and fashion. And, of course, baking.